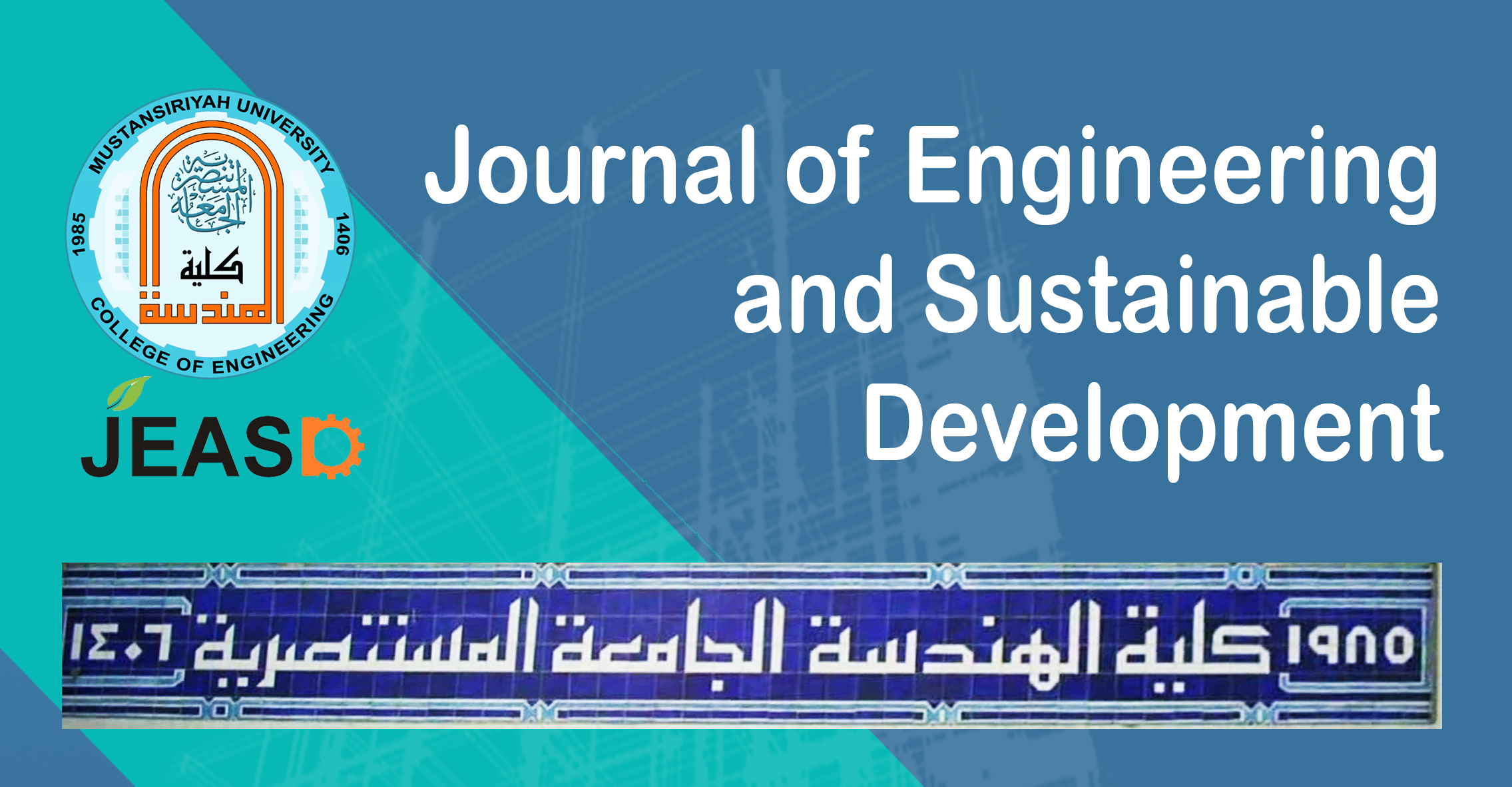 About the Journal
Journal of Engineering and Sustainable Development, College of Engineering, Mustansiriyah University, Baghdad, Iraq
ISSN (print): 2520-0917
ISSN (online): 2520-0925
The Journal of Engineering and Sustainable Development (JEASD) is an international peer-reviewed open-access scientific journal published by the College of Engineering, Mustansiriyah University, Baghdad under the regulations and standards of the Ministry of Higher Education and Scientific Research in Iraq. A double-blind peer-reviewing system is being used to assure the publication's quality. In the meantime, the journal commits itself to the regulations of the Committee On Publication Ethics (COPE). JEASD is an open-access journal that all contents are free of charge. Users are allowed to read, download, or share the full texts of the articles in this journal without prior permission of the publisher or the author(s). JEASD is published bimonthly, and the issues appear at the beginning of each other month.
Authors should submit their manuscripts electronically through the Journal submission system on the following website:
https://jeasd.uomustansiriyah.edu.iq/index.php/jeasd 
Copyright
JEASD is an open-access journal where all contents are free of charge. Articles of this journal are licensed under the terms of the Creative Commons Attribution International Public License CC BY 4.0 (https://creativecommons.org/licenses/by/4.0/legalcode) that licensees are unrestrictedly allowed to search, download, share, distribute, print, or link to the full texts of the articles, crawl them for indexing and reproduce any medium of the articles provided that they give the author(s) proper credits (citation). The authors hold the copyright for their published work on JEASD website, while JEASD is responsible for appreciating citation for their work, which is released under CC-BY-4.0 enabling the unrestricted use, distribution, and reproduction of an article in any medium, provided that the original work is properly cited.
 License
Creative Commons-Attribution (CC BY 4.0) 
Article Processing Charges (APC)
As an Open Access journal, publishing an article in this journal requires an Article Processing Charge (APC) that will be billed to the submitting author following acceptance. There are no other fees (for example submission charges, page charges, or color charges). The Article Processing Charge for the journal is 75000ID (about 50US$). Journal of Engineering and Sustainable Development (JEASD) does not offer waiving policy. Payment can be made by  Manual Recite. 
This APC was first applied in 20/07/2020
Current Issue
Vol. 27 No. 1 (2023): Journal of Engineering and Sustainable Development
View All Issues